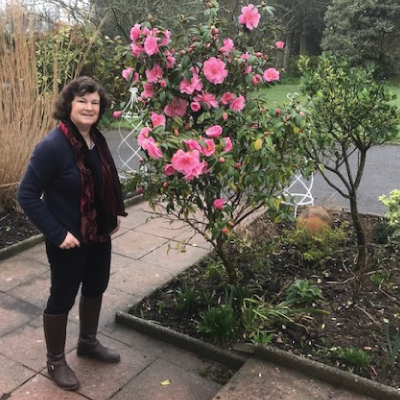 From horticultural research jobs including time in Canada trying to control onion blight to tending the Master's garden here at Marlborough College, Patricia Rowell (BSc MPhil) has a wealth of gardening knowledge and experience to bring to her Summer School courses. In this interview, she gives an insight into some of the particular highlights of her new course 'More Glorious Gardens' and also shares some useful gardening pointers for the Easter weekend.
MCSS: When we are fortunate to have so many lovely gardens on our doorstep, how do you go about deciding which ones to include on your courses?
PR: Initially I tend to choose my favourite gardens, then try and arrange visits to the gardens that should look good in July during Summer School. For the last three years, the theme of the Glorious Gardens was 20th century garden designers. This year for More Glorious Gardens most of the gardens were created in the 18th to 19th century, but now many have had some more contemporary input to make them manageable in the 21st century without an army of gardeners!
MCSS: If you could transplant one of the 'glorious' gardens to your own cottage in the Pewsey Vale which one would you choose?
PR: Oh definitely Bourton House Garden in Gloucestershire. My particular passion is for herbaceous plants and the borders in this garden are wonderful. However, I may need to borrow a gardener or two to keep it all under control!
MCSS: Is there a garden you are particularly excited to take your 'More Glorious Gardens' group to and why?
PR: Yes, probably Hanham Court as although it is a very old garden it was laid out in its present form by the designers Julian and Isabel Bannerman while they were living there. The Bannermans are best known for their work for Prince Charles at Highgrove and opened the garden briefly and then moved on and I didn't get the chance to visit!
Now the new owners have done a lot of restoration work after several years of neglect and the garden is only open to private parties. I took a group there last year and was not disappointed, so I'm really looking forward to returning this year at a slightly different time of the year.
MCSS: Finally, any advice on what jobs we should be doing in our own gardens this Easter weekend?
PR: This is a good time to sow seeds. A little heat helps them germinate more quickly. If you don't have the luxury of a heated greenhouse you can put them either on the window ledge or in a small propagator.
Giving the lawn a rake to get out some of the moss that has accumulated over the winter will be good exercise, then spiking it with a fork or scarifyer to improve the drainage is worth the effort. If you want to kill the moss, use lawn sand, but be prepared for the moss to turn black!
Do find time to wander round the garden enjoying all the new growth and spring flowers and if the weather is warm take a cup of coffee outside and sit and enjoy the sun!
If you feel like an afternoon out, why not visit one of the gardens open under the National Gardens Scheme. It's good to go and appreciate someones else's hard work and you often get ideas for your own garden. Plus the tea and cakes are always excellent!
In 2018, Patricia will be teaching two Summer School courses:
Gardens To Inspire (No.93) | 9-13 July | SOLD OUT
More Glorious Gardens (No.98) | 16-20 July| BOOK HERE