Eating at Summer School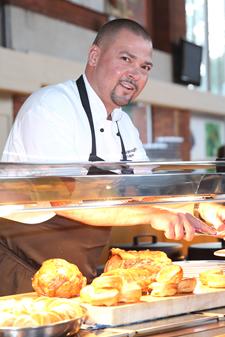 Summer School offers an excellent dining experience with a range of cuisines to suit the most discerning of palates. Residents have all their meals included and non-residents are able to purchase meal tickets on a weekly or daily basis. In addition, customers may visit the Café in the Court which offers a wide range of sandwiches, panini and other lunchtime delights. As always, afternoon tea is a joy to behold with a plethora of cakes and pastries.
Residents:
All meals are included in the residential fee and are served in Norwood Hall (the main dining room). A meal pass (swipe card) will be issued on arrival.
Non-Residents:
Daily or weekly meal tickets for Norwood Hall will be available for purchase:
Breakfast £5.00 per day | £25.00 weekly ticket
Lunch £8.50 per day | £37.50 weekly ticket
Dinner £18.50 per day | £82.50 weekly ticket
If non-resident families wish to eat together in the main Norwood Hall dining room, young people will be charged at full price for their meal and children under 10 will be charged half price.
Please note that although every care is taken to adhere to dietary requirements involving nuts, we cannot guarantee that all our food will be totally nut-free
Café in the Court:
Alternatively, you could visit Café in the Court, which offers a range of quality products prepared to order including: sandwiches, baguettes, panini, soup of the day, jacket potatoes, cakes, snacks and drinks.
Tea and Coffee Breaks:Complimentary tea and coffee breaks are served at the following times:
Morning coffee 10.30am-11.00am | Located outside Norwood Hall and Ellis Theatre
Afternoon tea 4.30pm-5.00pm | Located outside Norwood Hall only
Please note: afternoon tea is not served during the optional short rest break at 3.00pm.
Bars:
The Marquee bar will be open from midday and is the place to sit and enjoy a drink, often accompanied by live music. Please note that young people under 18 years of age may only be present in the bar when accompanied by an adult.
If you wish to buy wine to accompany your meals there is a fine selection available to purchase in Norwood Hall (evenings only).
As the bar is a licensed area, all drinks consumed must be purchased on the premises.
Young People's Catering:
Lunch is included free of charge for all children attending a full-day of courses. An afternoon snack will be served free of charge to resident and non-resident children attending the evening activities.